One of the things I realized during the past school year is that my son has terrible handwriting for a 14 year old. Sometimes he can't even read his own writing, and with high school starting next year he needs to be able to read what he writes, and so do others. I realized this is a part of homeschooling I neglected, and set out to remediate it. So the chance to review a handwriting book designed for older children from Classical Conversations was a perfect opportunity for us.

Classical Conversations is most know in the homeschool community for their classically inspired cooperative learning communities. But even for those of us, like me, that don't live near one of their communities they make many of their products available to all homeschoolers, like their handwriting series. The Prescripts handwriting series has four levels:
PreScripts Cursive Letters and Coloring (Age 3-7)
PreScripts Cursive Words and Drawing (Age 5-10)
PreScripts Cursive Sentences and Art Lessons (Age 7-12)
PreScripts Cursive Passages and Illuminations (Age 9-high school)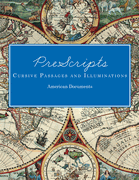 I received the book designed for the oldest students, Passages and Illuminations. This book consists of passages of writing taken from American documents and speeches for the student to copy. The passages include things like Patrick Henry's "Give Me Liberty or Give Me Death", Abraham Lincoln's "Gettysburg Address", and Eleanor Roosevelt's "The Struggle for Human Rights". The passages are reproduced in cursive, with lines underneath for the student to use. Each passage is also illustrated with an illuminated letter, like the ones seen in medieval manuscripts, to encourage students to make their copy work more artistic.
There aren't a lot of handwriting curriculum out there for older children, so I think this product fills a need. I had bought a 4th grade handwriting book for my son to use, because that was about as advanced as I could find and I didn't have the energy to design my own copy work. So when we received this he was pleased to use something that wasn't so "babyish".


To use it I first had my son read a passage aloud to me. Reading cursive isn't something he practices that often, and the old fashioned language made it even more challenging. Then he would copy the passage underneath the words. He needs to work on both printing and cursive, so I had him do both. Sometimes he translated the cursive to printing, and sometimes he copied the cursive. He preferred translating cursive to printing.
He usually worked on the illuminated letter on another day. I encouraged him to just get the base letter down and fill in his own details. Copying a passage took him about 10-15 minutes, and the time he needed for the letters varied a lot, depending on how much effort he felt like expending.
This product retails for $12.99, and has enough passages to use for an entire school year. So it is an excellent way to get older children to practice handwriting while learning about American history. I wouldn't say my son likes it, because, well it is handwriting. But he likes it better than what he was using before, and if I am forcing him to practice his writing he'd rather use this.
Click to read more reviews from the Schoolhouse Review Crew and learn about the younger levels of this curriculum.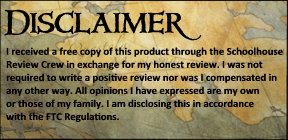 By