Logic is a subject that I have always wanted to cover with my children, because thinking and reasoning skills are so important in today's world. I watch TV news shows and get so annoyed at the lack of reasoning and logical fallacies that seem to be everywhere, so I want to learn to reason! So I was glad to get the chance to try out a logic curriculum from Classical Academic Press. I received The Discovery of Deduction: An Introduction to Formal Logic and The Discovery of Deduction Teacher's Edition to use with my 13 year old son.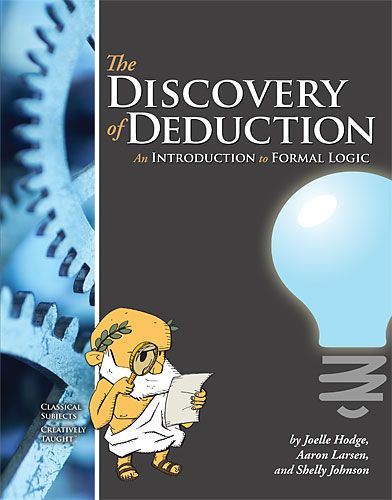 My son has been using a different curriculum to study informal logic this year, but I thought it was the perfect time to take things further and add in some formal logic studies. This curriculum is designed to teach students how an argument is put together and structured.
Our Experience
I used this with my son three days a week for the past 5 weeks. I think the program does a great job of making logic accessible to students. It starts by explaining what logic is, and includes a brief history of logic, before getting into the specifics of propositional logic. It includes Socratic dialog and discussion questions that are fun to talk about and keep kids interested. My son had heard of Ockham's razor, but now he understands what it is, and he enjoyed explaining it to his older sisters and feeling smart. The lessons took about half an hour to forty-five minutes for him to complete. It could be done more quickly if I would let him do the discussions out loud, but I make him write down answers before we talk about them together.
The Teacher's book is invaluable, and a great time saver for me. I don't know logic well enough myself to be comfortable trying to teach this without a teacher's edition. The Teacher's Edition has the complete student text, along with answers to all the questions and definitions. It also has extras and lots of explanation in the margins. The Classical Academic Press website has a number of suggested schedules, both for a year long or a semester long course. We will continue to use this at a slightly slower pace and plan to finish it up in the fall.
My son finds logic pretty challenging, and he enjoyed informal logic more than formal logic. Formal logic is less about whether or not an argument is actually right, and more about how it is formed. That annoyed my son at the beginning, since he is more concerned about whether or not the argument is right. He did not understand why being able to structure an argument and break down the thinking process was important. Once I pointed out to him that programming computers is all about structure and understanding how to tell computers what to do he was much more receptive to learning logic, since he wants to program computers!
He is at the lower end of the grade range for this curriculum, which is designed for children in grades 8 and up. I think the range is pretty accurate, and I wouldn't suggest trying it with a younger student. The Discovery of Deduction is priced at $26.95 for the Student Edition and $29.95 for the Teacher's Edition.
Click here to read more reviews from the Schoolhouse Review Crew and find out what other reviewers thought!