I recently had the chance to review a Bible study from Doorposts, designed for boys ages 12 and up. The book is called Because You Are Strong and is designed to help young boys study the bible and see what God says about true strength.

I have been part of the Schoolhouse Review Crew for over a year now, and I usually avoid reviewing the religious based material.  We are Catholic and the overwhelming majority of religious homeschool materials are Evangelical Protestant, so they don't always work well for us. But this program looked fairly open ended and didn't seem to be geared towards any particular denominational view so I decided to have my son and I try it out.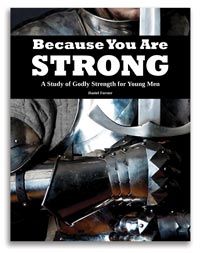 The book is set up for 74 days of study, with additional suggestions for more in depth studies.  I think it could be easily stretched out for a year's worth of Bible study.  One of the things I liked most about this is that each of the chapters uses a different study method.  So it is not just a study of the strength, but also includes lessons on different ways study the Bible.  Here are the chapters:
Strength for the Race: Meditating on Hebrews 11-12
Strength with no Limits A Topical Study on the Omnipotence of God
Strength and Wisdom: A Topical Study in Proverbs
Strength and Temptation: A Character Study of Samson
Strength to be Valiant: A Word Study on "Valor"
Strength in Our Weakness: A Verse Study on 2 Corinthians 12:9-10
Strength in the Battle: A Chapter Study of 1 Samuel 17
Strength Serving Others: A Study of Jesus' Actions in the Gospel of Mark
Strength and Gray Heads: A Verse Study of Proverbs 20:29
Strength in the Faith: A Book Study of 1 John
I like this book because it is so easy to use.  It works well as an independent study, and my son was able to use it without a lot of input from me, other than checking to make sure he was doing his work.  I also like the variety of activities and I think they are well thought out and require real thinking on the part of the student.
The activities like learning to use a concordance and how to use margin notes in the Bible are things I have been meaning to teach my son but never quite get around to!  I also like that each chapter is independent, so it will be easy to do a chapter and then do something else for religion for a few weeks and come back to this. 
My son doesn't like it as well as I do, especially because it requires quite a bit of writing.  Doing parts of this out loud as discussion would help with this, and we might do this as we ramp up the school year and he has more work.  The other thing he mentioned is  that the activities take anywhere from 5 to 30 minutes to complete, so he never knows how long it is going to take in a given day.  So he'd like to see more uniformity in the amount of daily work required.
While this book is designed for boys it could also be used by girls.  There are a few questions scattered throughout the assignments that are marked and have alternative questions for girls, but these are minor and the alternate questions for girls are included in an appendix.
The book retails for $14 for a paperback book, which is what I received, or $10 for a pdf file. 
Click to read more reviews from the Schoolhouse Review Crew