One of the big changes in homeschooling since I started doing it 15 years ago is the amount of online material that is now available. New online curriculum is released all the time, and I recently had the chance to try out an online high school science curriculum from Fascinating Education.
The Program
Fascinating Education has three high school science curriculum, Biology, Chemistry and Physics. Each course is available with one year access for $79 per subject. These courses are designed for middle school through high school. I received the Fascinating Biology series to try out with my 10th grade son. The developer of the series, Dr. Margulies, recommends starting with Chemistry, and then doing Biology and Physics, because of the large amount of Chemistry involved in Biology. While this is not the standard sequence followed by most schools it is the sequence we have been following for my son's science classes, which worked out well for this review.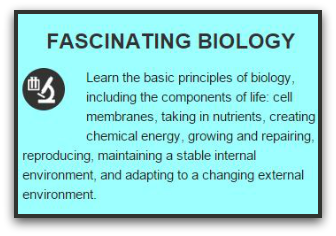 The Biology program consists of 19 lessons, each of which has a video lesson followed by a test. The lessons are more like narrated slide shows than videos, and a pdf script of each lesson is included. The lessons are around 45 minutes long, and the test afterwards is multiple choice. A student can do the tests online and have them automatically graded or print out a pdf test and grade it yourself. The course is designed to teach mastery, and students are supposed to re-do any test that they score less than 80% on.
How We Used the Course
We used this course as a supplement to my son's existing Biology curriculum, picking and choosing what to watch based on what he was reading in his text book. The order of lessons didn't match up well with my son's textbook, but the course does include a course outline so I was able to figure out which lessons to watch.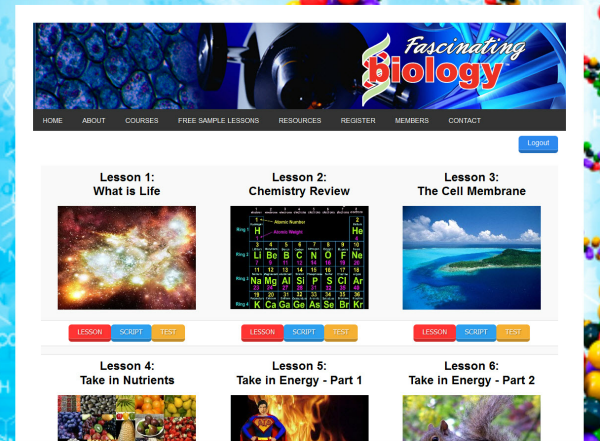 What We Thought
I liked the emphasis on the chemical nature of biology, which was strong in the units we viewed.  I also thought the way Dr. Margulies presented the information was effective. He frequently asks questions as he goes through the material, and then answers the question as he explains the concept. The material that we viewed was well taught. My son found it just ok; he didn't complain about doing it, but he didn't really enjoy it either.
Since there are only 19 lessons each one covers a lot, and I don't see how a student would retain the information without taking notes and reviewing them. The lesson on "Take In Energy", for example, starts with what ATP is, then covers photosynthesis and then goes into the Carbon Cycle and ends up talking about bacteria on the early earth. That is a ton of information to learn in 45 minutes! My son didn't take notes since he is using this after he has read about the topic in his text book, but I think taking notes would be beneficial.
In addition in my opinion the tests at the end of the modules are just too short. Most are only 10-12 questions, and I don't think that is enough to adequately test the information. Also since the tests are the same every time even if a student retakes them after scoring less than 80% it is fairly easy for him to just remember the right answers after reviewing his mistakes.  I'd like to see more frequent tests or quizzes interspersed through out the lessons, instead of just at the end.
According to the website completing the Biology course would take about 30 hours. They state the course is sufficient for mastery of high school biology, but it just doesn't seem like enough to me. My son has already spent more than 30 hours on biology this school year, and he is only 1/4 of the way through the material. So I like this class as middle school class or a high school supplement, used in addition with a text book and lab work. But I would not use it by itself for a high school science credit. I am pretty much a science geek though, and expect a lot of depth in my science classes, so it is quite possible that a family who is less into science would find it sufficient.
Read more reviews here, including reviews of Fascinating Physics and Fascinating Chemistry.