History is my son's favorite subject in school. But this year we haven't really done any history at all because he has been doing a year long geography program. So when I had the chance to review a Lap-Pak program from Home School in the Woods I knew he'd be excited to actually do some history. The program we received to use is Hands-On History Lap-Pak: The 20th Century in America.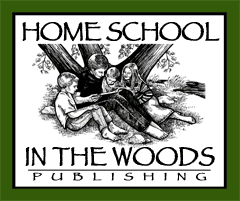 This Lap-Pak is a downloadable pdf file that comes with 22 projects on all kinds of subjects related to 20th Century history. Some are the standard things you would expect, like World Wars, Political Events and the Space Race. But it also includes projects on things that frequently are overlooked in history study, like Architecture, Slang, and even "Dining Through the Decades" Each project has a hands on activity to complete, to help cement the information in your child's mind.
There is also an included booklet that discusses each of topics covered, so you don't have to use outside resources for the basic information about a topic. But if you want more information the curriculum includes a detailed list of books that is perfect for when your child wants to learn more. This picture shows what the lap-book will look like when all the projects are completed.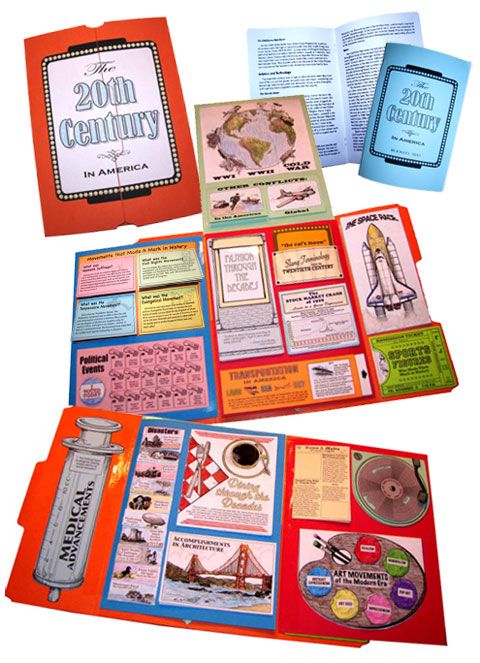 One of the nice things about this program is that you can use it as-is or go into more depth, depending on your interest. My son is at the older end of the age range for this, and he has been using this as a jumping off point to go more in depth on the subjects that interest him. So far we have been spending about a week on each topic. I have been letting him pick the topics, and I expect once we get to the topics he is less interested in (like art) we will start moving more quickly.
The way we use the program is after he picks a topic I print out the accompanying sheets, and we read the background information provided by the program together. Then he does any cutting or pasting necessary, and we discuss what direction he would like to go in. So when we did World War II he chose to learn about the Winter War, a small part of the war in which a small group of soldiers from Finland held off Nazi invaders for months. When we did the Space Race section he wrote a report on the Voyager Spacecraft, and we watched the movie The Right Stuff to learn all about the early space program. For the Transportation topic he chose to learn about race cars and Norwegian Naval vessels. I can guarantee that if I was picking topics the Norwegian Navy would never have come up, so I have learned quite a lot of new information from his explorations also! When he is finished a topic he summarizes what he learned and we move on to the next booklet.
The little booklets and projects are very clever, and include things like a recording medical advancements on a syringe and making sports trading cards for famous sports figures. You need standard craft supplies like glue, scissors, colored pencils, markers and tape to complete the projects. My son isn't too into the arts and crafts aspect of the projects, as you can see by the pitiful sports figures he drew on his trading cards in the picture below.
But he is having fun, and enjoying all the subjects he is learning about. An unexpected bonus from my point of view is these projects has given us a chance to really focus on his handwriting, which still needs lots of work!
Schoolhouse Review Crew members reviewed three different programs from Home School in the Woods, so click here to read more reviews.

By