My 14 year old son has learned some computer programming over the past two years, and written programs in Basic. Now that he is starting high school it makes sense for him to learn a higher level programming language and improve his skills. So when I had the chance to review a programming course from Homeschool Programming as part of the Schoolhouse Review Crew I figured it was great timing for him.
Homeschool Programming has computer courses for children from 4th grade and up. There are two high school level courses, one for learning programming in C# and one for learning programming in Java. After some research I decided that either language would be good, and I ended up receiving the TeenCoder Java Series for my son.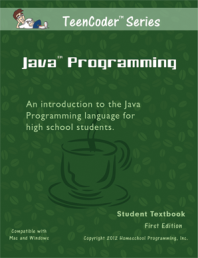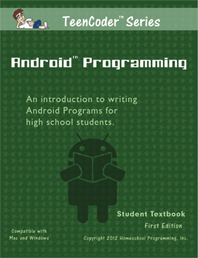 This course has two parts, each of which is about one semester long. The first semester focuses on learning to program in the Java language. The second semester takes that Java knowledge and applies it to creating programs for Android devices.
The course is very well organized. It comes as a downloadable program with extensive files. There is a student programing guide for each semester, each of which is close to 300 pages long. This includes all the readings and lessons. Then there are separate activity guides for each lesson, which explain the activities and programs to create. There are also instructional videos, which are helpful for going through the lessons. The videos are available online, or as a DVD. I also received a copy of the DVD for the Android Programming.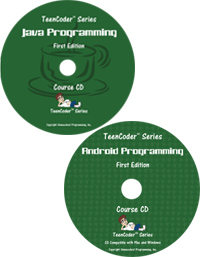 The program also includes an entire solutions guide, has solutions for all the programs and even tests. All in all there is a lot of material, and it covers the language well.
My son has been able to manage his previous computer programming courses more or less by himself. This one is definitely a step up, and he wasn't really able to take it over and work independently. There is just so much material to learn, and it is detailed.
The videos are optional, and we tried to do the first few lessons without watching the videos. But I found that my son's comprehension was much higher when we started watching them, so I'd definitely recommend using them. Each chapter is divided up into 3 or 4 lessons, and we found that doing one lesson a day was the right pace.
The lessons start off slowly, with information about things like the history of Java and programming ethics, and then get into the details of Java syntax and writing programs. The early programs are just simple things like defining variables, printing things out and using strings, and were more about understanding and becoming comfortable using the Java Development Kit and Eclipse Integrated Development Environment and learning basic syntax. The programs get much more "fun" around Chapter 6, which has the student create a "Silly Story" kind of like MadLibs.
We didn't get to the second semester Android Programming during the review period, but I went through some of the lessons on my own. I think my son is going to love this part! Once you have done the hard work of learning how to program in Java the Android programming is like a reward. The idea of designing apps really appeals to him, and is one of the reasons I decided he should learn Java first. The curriculum includes designing games like Whack-A-Mole, incorporating geo-coding and creating app widgets. You run the programs in an Android emulator, so you don't have to have a device of your own to learn to program.
Overall both my son and I are very pleased with this program. It is comprehensive, and covers the material in depth. I feel that it is definitely worth high school credit, and after completing the entire thing I think my son will be proficient in Java. I also think it is going to take all of next year for him to complete it! The programs that the child writes are somewhat open ended and require the student to really think about the problem, not just copy from the text. Of course that makes it more challenging, but it means much more learning occurs. The curriculum is designed for grades 9-12, so my son is at the lower end of the suggested age range. I think age range is about right, since my son is capable of doing the work. But a 16 or 17 year old would probably find it less time consuming than my son did.
The TeenCoder Java Year Pack which I reviewed retails for $155. You can also buy it without the videos for $130, and each of the two semesters is available separately if you are only interested in using one. All of the software and development environments for running Java are free and open source, so there really are no other costs for this course.
Click to read more reviews from the Schoolhouse Review Crew, including reviews of their C# programming course for high schoolers and their KidCoder series for younger children.

By