Becoming a good writer is critical for students today. I have used quite a few different writing curriculum over the years, but one of my favorites are the products offered by the Institute for Excellence in Writing. Andrew Pudewa teaches these classes, and he is an excellent speaker and teacher who I have been fortunate enough to hear in person on a number of occasions. So I was happy to have the chance to review two of his programs, and Student Writing Intensive Level C Set (SWI) and Teaching Writing with Structure and Style Set (TWSS).
Student Writing Intensive Level C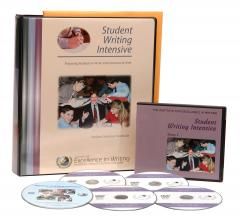 This course is a DVD series designed for students in grades 9-12. It can be used over 15-30 weeks, depending on your pacing, and is designed to take students through writing a wide range of compositions, including both fiction and non-fiction. It retails for $109 and includes 4 DVDs, student handouts, teacher's notes, source texts, and checklists.
How Robert Used the Program
I used the Student Writing Intensive with my 14 year old son Robert. He went through the Student Writing Intensive Level B DVD series three years ago, so he was familiar with the program. Two years ago Mr. Pudewa came to our area to offer 1 and 2 day classes, so my son also did a live class with him then, and Robert loved the class. He appreciates Mr. Pudewa's humor, and responds well to his instruction. Robert was excited to use this program, even though it meant doubling up on some writing because of other curriculum he was already using.
The program is well organized, and the Teacher's Notes contain a detailed schedule, which breaks it down into daily lessons covering 30 weeks. I really liked having such a detailed plan, because there was literally no teacher's prep for me! The entire course covers 9 units:
Unit 1: Note Making Outlines
Unit 2: Summarizing from Notes
Unit 3: Summarizing Narrative Stories
Unit 4/6: Summarizing Reference and Library
Unit 5: Writing From Pictures
Unit 7: Creative Writing
Unit 8: Essay Writing
Unit 9: Critiques
This level moves through Units 1 and 2 quickly, and Robert started right out making key word outlines and rewriting from his notes.

The program also teaches stylistic techniques, like adding strong verbs, who/which clauses and quality adverbs. Robert liked the checklist that accompanied each composition, so he knew exactly what he was expected to include in each paper. I think the checklist appeals to his analytical side! He is not at the point yet where he will remember to include these things without a checklist.
Unit 3 was a little more challenging for him, because it involves re-writing stories. Unlike his sisters Robert is not interested in writing fiction. But this Unit teaches a story sequence model that helps break the story down into parts, so the student can see the plot and characters.
I was surprised at how well his re-written stories turned out! He even ended up changing the setting and characters, which was optional because it makes the re-write more challenging. Robert got through the first 8 weeks of the program, and we will be finishing it up in the fall.
Teaching Writing with Structure and Style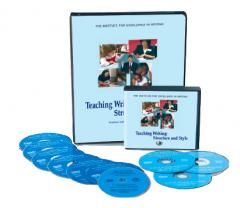 This DVD course is designed for the parent or teacher, so that you learn the techniques you need to teach writing to your children. You learn how to teach students to write all the way from the basics through advanced writing. It retails for $169 and includes 10 DVDs and a Seminar Workbook which contains charts, word lists and sample lesson plans.
How I Used the Program
The intent of this course is to go over all the Units (the same as above) and teach you how to implement them with your child. I went through the entire program, and found it extremely well done. Mr. Pudewa is engaging and does an excellent job of explaining things and addressing concerns. The syllabus includes tips for adjusting the course for different grade levels and grading tips.
I think almost any parent would learn from this program. I have always watched the Student Intensive Videos with my kids, and I sat in on Robert's class with Mr. Pudewa two years ago. So I figured this would be mostly review, but it was much more in depth than I expected! I think I am going to be able to do a much better job of taking Robert through the Level C program now that I have this background.
Wrap Up
Institute for Excellence in Writing program have are well known in the homeschool community for a reason. The writing instruction is easy to implement and thorough. Mr. Pudewa is an excellent teacher, and does a great job making something that initially seems intimidating easy. The program is expensive, but it can easily be used with multiple children and it does have a great resale value when you are finished with it.
If you don't want to buy both programs either could be used alone. You could just use the Teaching Writing with Structure and Style program for yourself, and then use that information to teach your children. Or if you like everything already planned you could just use the Student Writing Intensive, which is what I did a few years ago. Which would work better would depend on how many kids you have and how comfortable you already are with teaching writing. But after using both, I'd say that using them together is the best option.
Some kids are naturally talented writers, and can figure out the stylistic techniques taught here automatically. But Robert isn't, and if I didn't point it out to him he wouldn't even notice that he used the word "good" five times in a three paragraph essay. So my hope is that after going through this program with the systematic checklists and structure he will internalize these standards for writing and be able to apply them all the time.
Click to read more reviews from the Schoolhouse Review Crew. Reviewers were able to review all levels of the Student Writing Intensive, and in addition the Teaching the Classics curriculum.