Summer is the perfect time for salads!  They made a tasty main dish, and best of all they are easy to make ahead and have waiting after a busy day.  This Raspberry Shrimp Salad is a simple and cool supper for summer.
I made a simple vinagrette dressing for this using Raspberries, oil and vinegar, but you could make the recipe even simpler by purchasing a Raspberry Dressing.  But even with making your own dressing this can be on the table (or in the refrigerator) in less than 15 minutes.

Raspberry Shrimp Salad
Ingredients
½ lb shrimp
4 c salad greens
1 mango
1 avocado
¼ c red onion
6 oz raspberries
1 T balsamic vinegar
½ t mustard powder
3 T olive oil
3 T water
Instructions
Heat a small frying pan and cook the shrimp for 2 minutes on each side until pink.
While the shrimp cooks chop the mango, avocado and onion.
Take the shrimp off the heat and put aside.
Combine ⅓ c. raspberries with the vinegar, mustard, olive oil and water in a blender and puree.
Top the salad greens with the mango, avocado, onion and shrimp. Drizzle the dressing over top and serve.
Need more quick 15 minute recipe ideas? Check out these other great #15MinuteSuppers!
Follow 15 Minute Suppers on Facebook | Twitter | Instagram | Pinterest
and look for the #15MinuteSuppers hashtag too!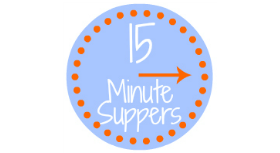 BLOGGERS: Would you like to join us at #15MinuteSuppers? We'd love to have you! Please check out the 15 Minute Suppers website or ask to join the Facebook group (for bloggers) to participate on Fridays…we'd love to have you join us.