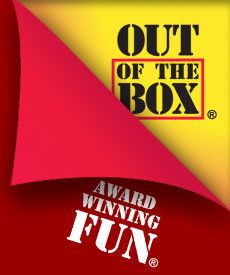 This post contains affiliate links. As an Amazon Associate I earn from qualifying purchases.
My family and I enjoy playing board games together, and the holiday season is the perfect time to add a new game to our extensive collection. We own quite a few games from Out of the Box Games, so we were happy to have the chance to review their game Snake Oil.
Snake Oil is best for ages 10 and up, an retails for $19.99. This is a fun party game that needs at least 3 players and is more fun the more participants you have!
The game instructions say it takes about 5 minutes to learn, and it really is that simple. Each player takes 6 word cards, and then one player picks a customer card. All the other players pick 2 of their word cards that would make a perfect product for the customer, and have 30 seconds to try and convince the customer to buy their product. The game rewards quick thinking and imagination.
The customer cards include fun things like newlyweds, a castaway or a fashion model. You have to try and come up with an amusing product that would be appreciated by the customer to become the winner of that round.
For example, once when we played I was a newlywed, and the three products my kids pitched to me were "Diamond Whistle", "Beach Ball", and "Cheese Book". The Diamond Whistle was for the newlywed wife to use to call her husband to the dinner table, and the Beach Ball was for playing with during the honeymoon on the beach. The Cheese Book was more complicated, and it was hard to understand because we were laughing so hard. But according to my son it is some kind of low calorie cheese substitute, that would be useful because many newlyweds gain weight after the marriage.

I decided that the Diamond Whistle was too stereotypical and the Cheese Book was too bizarre, so I picked Beach Ball, even though it wasn't as funny as the others. A big part of the game is knowing who you are pitching your idea to, and trying to predict what they will like best. My 21 year old daughter loves all animals, so anything related to animals has a better chance of getting picked by her. On the other hand my 18 year old daughter is more practical, and is likely to pick the thing that makes the most sense, not the thing that is the cuddliest. My 15 year old son is just strange, he is hard to read! He is also surprisingly good at this game, I think because he thinks well on his feet. He is able to string together something that makes almost no sense and make it very funny.

This game is fun with the family, and I think it would be even more fun with extended family. We are going to take it along with us when we go to my Mom's for Thanksgiving, and give it a try. It takes about half an hour to play, and there are so many cards that it can be played over and over. It would make a great Christmas gift!

I received product to review, all opinions are my own.

By