This shop has been compensated by Collective Bias, Inc. and its advertiser. All opinions are mine alone. #SousVidePerfection #CollectiveBias
This Sous-Vide Chicken Breast with Lemon and Herbs is juicy and tender – Sous-Vide cooking gives you perfect chicken every time. Learn how easy sous-vide cooking is and how vacuum sealing makes it even better!
I have had a sous-vide cooker for over a year now and I have enjoyed learning how to cook in a very different way. My favorite thing to make with my sous-vide cooker is chicken breast, because it comes out moist and tender and is never over cooked. This recipe for Sous-Vide Chicken Breast is one that my whole family enjoys.
What is Sous-Vide Cooking?
In sous-vide cooking food is sealed in an airtight container and then submerged in a temperature controlled water bath. The precisely controlled temperature of the water bath means that food is heated gradually until the food reaches the same temperature as the water. This makes it possible to cook meals to exactly the desired temperature so that the food is not over done. This is perfect for something like chicken breast which is very easy to over cook using conventional methods. I definitely served stringy, dry chicken to my family on more than one occasion before I had a sous-vide cooker!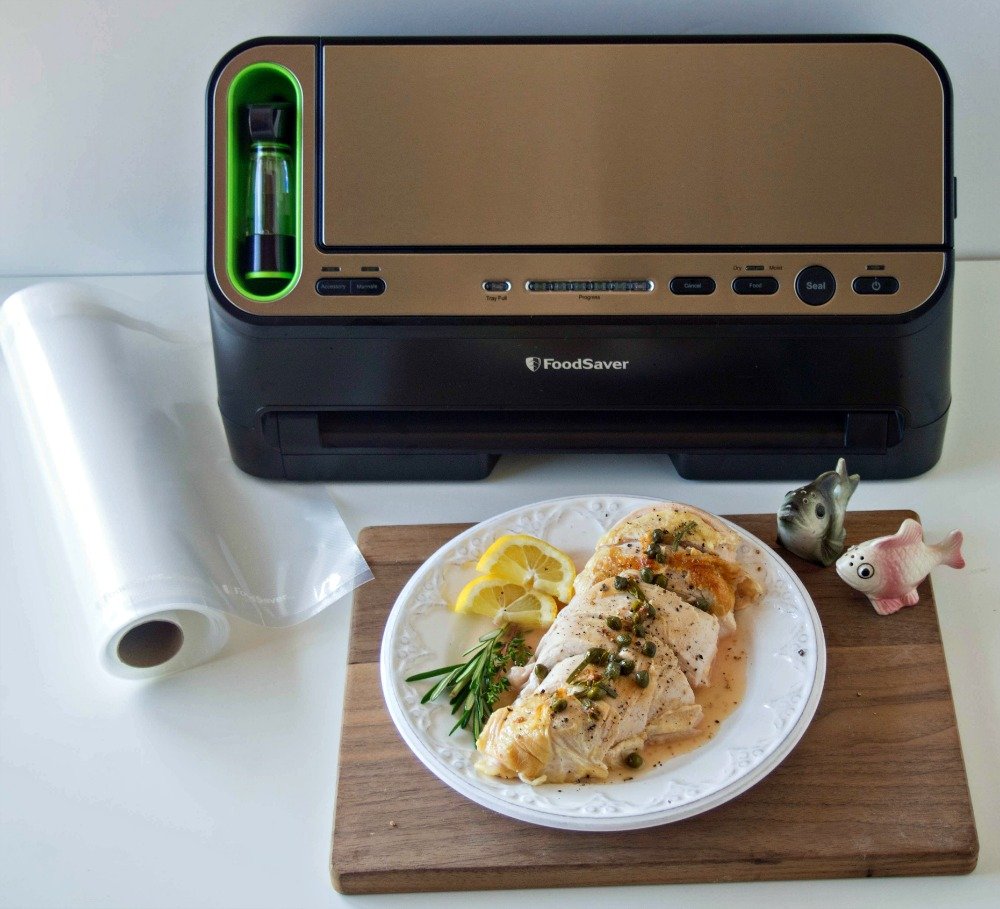 Just click on the picture above to find great deals on the products mentioned in this post!
Vacuum Sealing Food
When I started sous-vide cooking I used zipper food bags to seal the food and just tried to get as much air out of them as possible. This worked ok, but as I continued to expand my sous-vide repetoire I realized a vacuum sealer would be much better. So I recently got a FoodSaver® V4440 2-in-1 Automatic Vacuum Sealing System along with FoodSaver® 3PK 11″ Vacuum Seal Rolls from Amazon. These tools are ideal for bagging foods for sous-vide cooking. The FoodSaver® V4440 is the number 1 Vacuum Sealing system in the US and now that I have one I can see why!
FoodSaver® Rolls and Bags are BPA-Free and designed to withstand boiling temperatures.
Air is completely evacuated from the bag so that food is protected from the deteriorating effects of oxygen.
Since the bags are airtight you don't have to worry about the food floating during sous-vide cooking, which was an issue when I used zipper bags.
FoodSaver® Vacuum Seal Rolls and Bags are versatile and can go right from the freezer to the hot water bath. They can also go in the microwave or refrigerator.
Having the FoodSaver® V4440 has made sous-vide cooking so much easier and more convenient.
Great Deal
Right now you can save big on FoodSaver® at Amazon. Click here for Amazon Best Deal 20% off FoodSaver® V4440 2-in-1 Automatic Vacuum Sealing System. And click here for Amazon Best deal 20% off FoodSaver® Vacuum Seal Rolls.
How does the FoodSaver® V4440 Work?
It is easy to seal your food with the FoodSaver® V4440. The FoodSaver® Vacuum Seal Rolls let you decide the size bag you need. First you measure out the length of bag you need and then cut it with the built in cutting slider. Next you use the Seal button on the FoodSaver® V4440 to seal one end of the cut roll to make a bag. Then add your food, along with any desired seasoning, and place the open end of the bag in the FoodSaver® V4440. It will vacuum out all the excess air and then seal the end of the bag closed.
Sous-Vide Cooking with Frozen Meat
One of my favorite things about the FoodSaver® V4440 is how easy it makes it to freeze meat and cook right from the freezer. You can drop a frozen vacuum sealed bag of chicken (or other meat) right into the sous-vide cooker without thawing first. You will have to lengthen the cooking time a bit, but the flavor will not be affected. I like to buy a big family pack of meat and then seal portions in the freezer so I can just grab what I need.
Step by Step Sous-Vide Chicken Breast
The first step in sous-vide cooking is to heat the water bath to the desired temperature. For chicken breast the ideal temperature is between 140-160°F. I like to cook my chicken breast to 145°F which makes for juicy and tender meat. My sous-vide cooker has a handy app that helps me figure out what temperature I need to use for cooking various items.
You shouldn't add the meat until the water bath has reached the desired temperature. So while it is coming to temperature is the perfect time to season and bag your chicken. I seasoned my chicken with salt and pepper and then added cut lemons, thyme and rosemary to the bag. Adding spices and lime or lemon slices flavors the chicken and makes it even tastier. You don't want to add any liquid marinades though. Seal the chicken and seasoning in the bag as described above.
Once the desired temperature is reached add the bag of chicken to the water bath. With an airtight seal the chicken will sink to the bottom. Then wait until the cooking time is complete. At 145°F the chicken should cook between 1 1/2 to 4 hours.
A few minutes before you are ready to take the chicken out heat a skillet over medium-high heat on the stove and add a tablespoon of oil. When the chicken is done remove it from the bag and throw out any herbs or lemon. Dry it with a paper towel.
Then add the chicken to the hot pan and let it sizzle for a minute or so until it is nicely brown. Turn it to brown it on all sides.
If you used bone-in chicken (like I did) let it rest for a few minutes. After 5 minutes the chicken should be cool enough to able to pull away from the bone, slice and serve.
Sous-Vide Chicken Breast with Lemon
Yield: 4

Prep Time: 5 minutes

Cook Time: 2 hours

Additional Time: 5 minutes

Total Time: 2 hours 10 minutes

This juicy and tender Sous-Vide Chicken Breast with Lemon and Herbs is easy to make with your sous-vide immersion cooker.
Ingredients
Sous Vide Chicken Breast
2 chicken breast, bone-in
1/2 lemon
2 sprigs rosemary
2 sprigs thyme
salt and pepper to taste
1 Tablespoon oil
1 teaspoon capers
Instructions
Set up your sous-vide cooker with a water bath at 145 F.
Season each chicken breast with salt and pepper to taste. Put each chicken breast in a FoodSaver® bag with 2 slices of lemon and a sprig of both thyme and rosemary. Vacuum seal with the FoodSaver® V4440.
When the sous-vide cooker has reached 145F add the chicken to the water bath and let it cook for between 1 1/2 to 4 hours. 
When the chicken is almost done heat a cast iron or stainless steel pan over medium high heat. Add the tablespoon of oil.
Take the chicken out of the bag and throw out the lemon and herbs. Pat dry.
Brown the chicken in the skillet for a minute or so until the chicken is nice and brown on top.
Let the chicken rest for 5 minutes or so until it is cool enough to handle.
Use your thumb to peel the chicken from the breast bone. It should come right off. Then slice the chicken diagonally and serve with lemons, capers and herbs.
Notes
Nutrition facts are estimates.
Recommended Products
As an Amazon Associate and member of other affiliate programs, I earn from qualifying purchases.
Nutrition Information:
Yield: 4

Amount Per Serving:

Calories: 192 Saturated Fat: 2g Cholesterol: 79mg Sodium: 266mg Carbohydrates: 2g Protein: 24g

Nutrition facts are estimates.
Recipe Notes
I use bone-in chicken because it is cheaper and once the chicken is cooked the bone peels right off anyway. But you could substitute boneless chicken breasts instead.
You don't have to brown the chicken after sous-vide cooking, but it looks prettier if you do and it only takes a few minutes.
If you are using frozen chicken breasts increase the cooking time by about an hour.
Other Great Flavor Combinations for Sous-Vide Chicken Breast
There are lots of great combinations of herbs and other seasonings that are delicious with sous-vide chicken breast. I tend to buy a big pack of chicken breasts, flavor them a bunch of different ways, vacuum pack them and freeze them for later. Here are some of my other favorite flavor combinatons:
Italian Chicken Breast – flavored with lemon, parsley and basil
Spicy Mexican Chicken – flavored with lime, coriander and jalepenos
Check out FoodSaver on Facebook or Instagram for more great ideas about how you can use a FoodSaver® V4440 in your kitchen!
Find more Sous Vide Recipes