This past month I was able to review Supercharged Science, which is an online science program with over 800 activities, experiments and projects! My family received a free membership for Supercharged Science E-Science program for high school, and I was very excited to review this program, because science is my favorite subject. I am always looking for ways to make science more fun and accessible to kids, and this program is designed for that.

The curriculum covers Physical Science, Chemistry, Life Science and Biology. The program is arranged in units, and they do not have to be done in any particular order, so you can jump around and cover the topics that appeal to you. They recommend you start by watching an introductory video, and learning about the Scientific Method, but after that you can do any of the activities.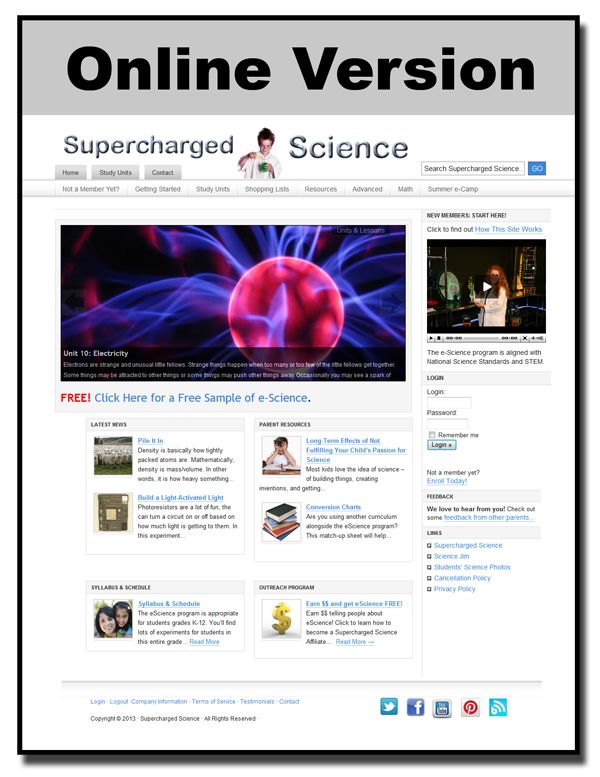 Each unit has a "Getting Started" section and includes lesson plans for the unit. The Lesson Plans are comprehensive and include a materials list, vocabulary, objectives, readings, activities, experiments, projects and exercises. So there is lots and lots of material, and it took me a while to figure out how to use it and get the most out of it.
The suggested order is to view the introductory video, and then do some reading and complete the activities. At the end of the unit the exercises can be used to check that the concepts were understood. They also suggest that students keep a lab notebook to write their notes and experiments in, so that there is record of all the work completed.
Magnets Unit
I used this program with my children who are 13 and 16. My 13 year old is finishing up an integrated science program, and was covering Earth Science when we started the review. Unfortunately the Earth Science part of the curriculum is not out yet, so I let him browse the website and pick what he wanted to learn about. I expected him to pick Robotics, but instead he chose the unit on magnets, and that is where we spent most of our time. We made an electromagnet and learned how magnetism and electricity interact. The highlight of the unit for us was making a DC motor.
This was designed using a D-battery, paper clips, magnet wire, a magnet and a rubber band. I have tried (and failed) to make motors with my kids multiple times in the past, and it is not easy because everything has to be perfectly balanced and setup for it to work. This design worked amazingly well, and my son was able to get it working in about half an hour. The video explained exactly how to make it, and described potential trouble spots, and it worked great. We had a blast making the rotor spin and spin and showing everyone we could find how it worked! Here is video of the motor in action.

Chemistry Units
My 16 year old daughter has been doing chemistry this year, so we started working through that section. There are two chemistry sections, and we worked through the second chemistry section, which includes intermediate and advanced chemistry. Many of the experiments were ones we had already done, but there were some that were new. I liked having the videos to see the experiments. For example the Detonating Bubbles experiment is one that I would have thought was too dangerous to do in the kitchen if I had just read it, but seeing it in action made me realize it wasn't as dangerous as it sounds. So we made some hydrogen gas and exploded it, which made my daughter's week!
Another experiment that I had read about but never done was making a magnesium battery. I always thought it sounded kind of boring, but once I watched the video I realized it is very cool, so we are making it next week.
My Take on the Curriculum
I really enjoyed using this program. Aurora Lipper, who teaches it is enthusiastic and does a fine job of making the science fun and educational. But as much as I like it, I think it is just not enough for the high school level. The high school units include links to text books and some exercises, but I in my opinion for high school a student should be using a comprehensive text with lots and lots of problem solving, and that just isn't included. The advanced chemistry section has exercises at the end, but it only includes 11 problems, which is nowhere near enough. So I think past 8-9th grade this would best be used as a supplement to a complete curriculum.
I love this for middle school though. I wish I'd found it a few years ago, because I think a middle school student who spent a year or two working through this and be extremely well prepared for formal high school science. I am going to get through as much of it with my son as I can in the next few months, because it is so fun and interesting. Aurora is very responsive and helpful, and it is easy to get questions answered and get help when you need it.
Another thing to keep in mind is that many units will require purchasing additional material to complete the experiments. Each unit includes a materials list, so it is easy to get what you need. Some units don't require purchasing much extra stuff, but others, like chemistry, will require a good outlay of money. I have an extensive set of science supplies, chemistry glassware and chemicals, so I only spent about $20 on supplies, but I would expect most families would need to spend more.
This curriculum retails for $37.00 a month for the K-8 section and $57.00 a month for the 9-12 section. With a monthly subscription you don't get access to all the units at once like I did, but a few at a time. When you first subscribe you get 7 units, then get access to 2 more each month you are a subscriber. But if there is a specific unit you want to do you can just let them know and they will set that up for you. The customer service is excellent, and the company is very easy to work with.
Click to read more reviews from the Schoolhouse Review Crew.

By