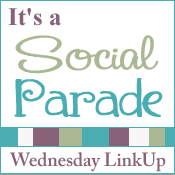 It's another week of "It's a Social Parade" from Smart and Trendy Moms. This week's theme is about Facebook fan pages, or I guess they are called "Likes" now. This is great news for me because I just started a fan page last week, so I don't have very many fans yet. Here is my fan page link:

Upstate Ramblings
To participate.
â– Fan the blog in the first spot
â– Link-up your blog post for "It's a Social Parade" that you made on your blog.
â– Follow as many as you like commenting on their post as you do so they can fan back!