This is a Sponsored post written by me on behalf of White Cloud for SocialSpark. All opinions are 100% mine.
I always enjoy hearing about companies that give back to the community and help those in need.  My family and I try to give back, especially over the holiday season.  This year we donated toys to our churches Angel Tree and collected food for our local food pantry.  But just because the holidays are over doesn't mean that we should lose the giving spirit, and we are trying to help all year round.  Companies can do even bigger projects, than families, and that is what White Cloud is doing right now.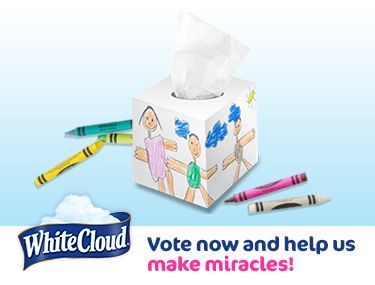 They have teamed up with Children's Miracle Network to help children who are receiving treatment in its 168 U.S. member hospitals. These kids have put their creativity and imaginations to work by illustrating a design to be featured on a new White Cloud Facial Tissue box.
White Cloud has collected all the designs from these children and narrowed them down to the top ten finalists.  Now they want you to vote and help them decide which lucky children will have their designs printed on White Cloud Facial Tissue boxes.  Can you imagine how cool it will be for the three winning children to see their designs in stores?  Just seeing them on the Facebook page for voting must be pretty exciting too!  You can vote by visiting the Voting App on Facebook.
Of course White Cloud will also make a generous donation to each of the hospitals with winning designs.  To encourage lots and lots of voting White Cloud is also running a sweepstakes, and after you vote for your favorite design you can enter to win a $25 Walmart gift card and the grand prize of a years supply of White Cloud products.  The voting is very close, White Cloud is reporting on their Facebook page that only one vote separates some of the finalists, so every vote counts.
It is hard to pick since there are so many great designs, but I voted for Stephanie, age 12, yesterday.  I think I will vote for someone else today though, since I love so many of the designs.  You can vote and enter the sweepstakes daily until January 30th.  So stay in the giving spirit and help White Cloud give back to the community.  You can Like White Cloud on Facebook and Follow White Cloud on Twitter to stay up to date on all the details of the contest and find out which children have the winning designs. The winning designs will be featured exclusively at Walmart starting in May.  Find a store near you!
Abbreviated rules: No purchase necessary. Void where prohibited. The Children's Miracle Network Contest and Sweepstakes are sponsored by Kruger Products (USA), Inc. The Contest is open to legal residents of the 50 United States and the District of Columbia, between the ages of 4 and 14, who are eligible patients at one of the 168 participating Children's Miracle Network Hospitals. The entry period for the Contest begins on November 29, 2012 and ends on December 28, 2012. The Voter Sweepstakes is open to legal residents of the 50 United States and the District of Columbia, 18 years of age or older. The Voter Sweepstakes begin at 6:00 p.m.ET on January 3, 2013 and end at 11:59 p.m. ET on January 30, 2013. For official rules, visit http://mywhitecloud.com/tissue…